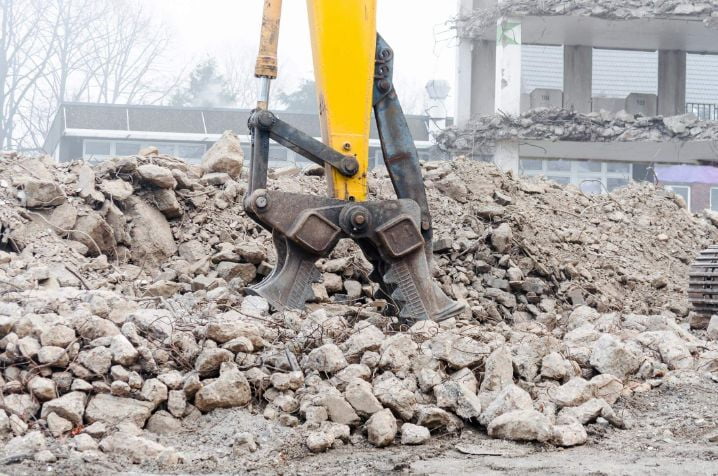 Some demolition projects are so large that they require some serious planning and equipment, yet even industrial demolition projects are no match for the GRND team.
Industrial demolition services generally consist of structure dismantling, debris and waste disposal and potential hazardous material management. However, no industrial demolition project is the same and all have their own permit and equipment necessities. If you want a team that can get all this work done for you, contact GRND.
Large Scale Demolition Projects
Whether it is a factory that needs to be demolished or you need a section of your industrial complex cleared of structures, we can make it happen for you. Our skilled demolition contractor team will ensure all the work gets done properly.
If you have large-scale demolition projects, you would want to hire GRND Demolition and Excavation Toronto. Large-scale industrial projects can sometimes be difficult to fully grasp due to the sheer size of it. We have the equipment needed to get the demolition done properly and we also have a team who is prepared to do what it takes to get the job done.
Industrial Demolition Services and Planning
Planning your demolition project at this scale requires a skilled team that understands the tasks at hand and all permits that are required. Most industrial sized demolition projects require all or several of the following demolition services and tasks to be completed:
Planning
Permits and inspections
Sample testing
Pre-demolition inspection
Removal of debris
Hazardous material abatement (lead, asbestos, etc.)
Environmental surveys
Disconnecting services
Evaluation of costs
Large scale demolition equipment (like excavators with hydraulic shears and rock-breakers)
The demolition or building permits for Toronto can be obtained with the City of Toronto.
When a large-scale industrial demolition project is underway, debris can accumulate very quickly. We own our own bins and frequently empty them to keep the job site as clean as possible.
There may be a lot of metal scraps after demolition. There are many different things that can be done with metal scraps, and the team here at GRND will make sure that they are properly taken care of and for the most part these will be recycled.
With all our projects we account for any environmental harm they could cause and ensure this doesn't happen.
Especially with large projects, safety is our number one priority. All our staff are trained for handling our equipment and any hazardous materials will be dealt with by a specialist team.
All necessary health and safety permits and precautions are in place when dealing with our GRND demolition contractor team.