Demolition Company Toronto | GRND Demolition Contractors
Demolition projects are large endeavours, so you want to have an expert demolition company working for you that knows what they are doing.
That is why you want to leave the work to the professionals here at GRND. We are capable of providing you with the best rates, for the best service. Not to mention, we have been an industry leader in the region for many years, and we know how to get the job done right.
Demolition is what we have mastered here at GRND over all of our years of experience. Our clients love using our GRND demolition contractor services, because our full-service solution means that our clients don't have to hire several companies for different tasks. Our GRND team can handle the demolition project and its related services from start to finish.
We worked with Niels from GRND Demolition and Excavation on a recent new construction project in downtown Toronto. His team was able to complete a challenging project on a site with limited space efficiently. Niels was honest and communicative. We would work with him and his team again!
Superior full-service GRND demolition projects
Give us a call to get your free quote!
Our Demolition Contractor Services
The services that we offer here at GRND will provide you with the outcomes that you need. Whether you need house demolition, need a large business site prepared for construction or even an industrial sized project, our full-service demolition team can handle it.
Some of our services are excavation, site preparation, shoring, waterproofing and underpinning.
Here at GRND, we offer such a complete and comprehensive service for demolition in Toronto, because we have been working in this industry for many years, and we want to ensure that we provide you with a one-stop shop.
In order for you to gain a better understanding of what we offer, we have listed some of our services below.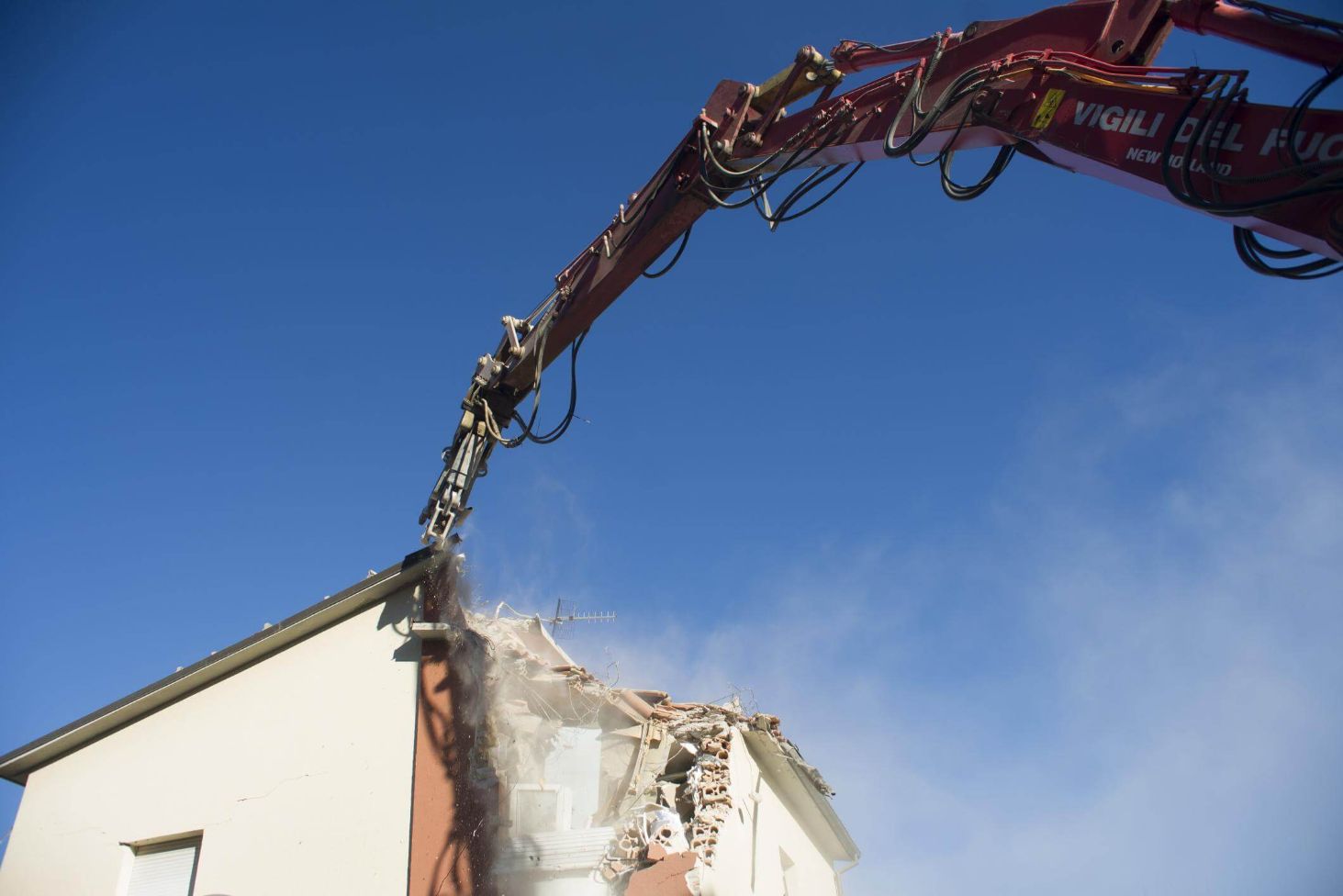 House demolition can be an exciting time when it means that you get to build an entirely new home after the work is done.
To ensure that you can get your new home sooner, you want demolition experts working for you who know how to get the job done right and in a timely manner.
That is why you want to trust us here at GRND to provide you with the proper residential demolition services in Toronto.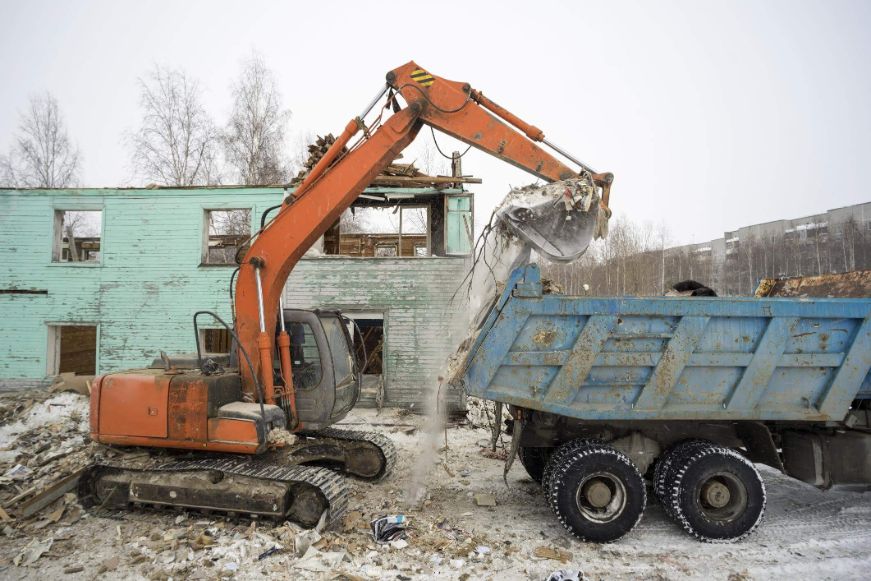 Commercial building demolition is going to be a breeze when you hire the best demolition company in Toronto.
Whether you need to prepare land for your new business or have a commercial property that needs to be demolished to make room for another project, at GRND we always go the extra mile and ensure that the job is done right.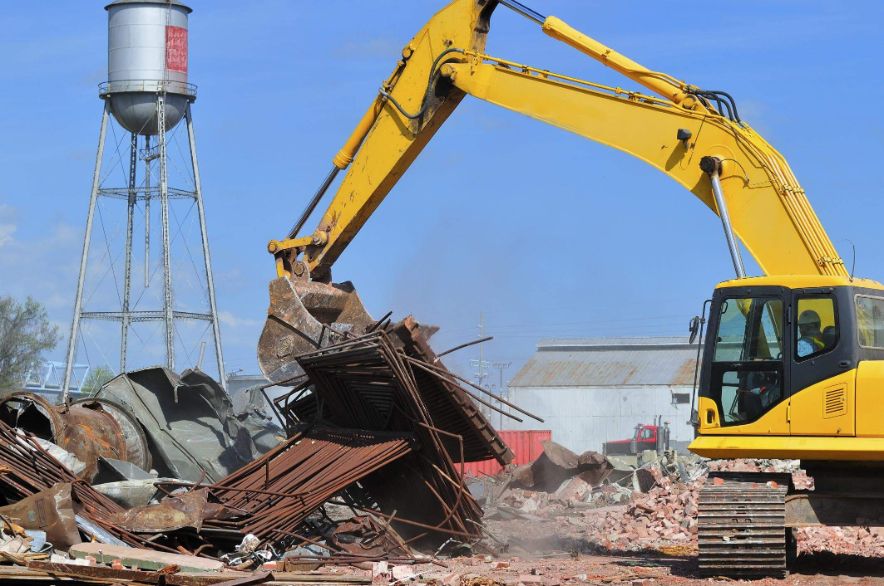 Even on the largest scale we at GRND can handle ourselves.
If you have an industrial property and are in need of demolition services, GRND can make it happen for you.
Whether you need a factory demolished or parts of buildings cleared on your industrial property for repurposing, we have our own equipment to get the job done.
We also offer excavating contractor services. If you're in need of a reliable and professional excavating contractor look no further than GRND. We offer a wide range of excavating services for both residential, commercial and industrial clients. If you need land clearing for a new construction project, we have the experience and equipment to get the job done right.
Site preparation is an important step in any demolition project, and it is crucial to ensure that the site is ready before work begins. Therefore, as part of our demolition progress, we make sure that we leave the site in perfect shape for whichever future project you would like to create.
Shoring is the process of supporting a structure during construction. This is often necessary for tall buildings or structures that are being renovated.
Underpinning can be a complex and dangerous process, so it's important to leave it to the professionals. GRND has been performing underpinning services for many years. Our team uses only the latest technology, methods and equipment to ensure that the job is done safely and correctly.
As part of our projects, GRND provides waterproofing services. Waterproofing your home is an important way to prevent water damage.
When you waterproof your home, you are essentially creating a barrier between the water and your home's structure. This barrier will help to keep the water out, and will also help to prevent any mould or mildew from growing.
We are experts in the field, and we use only the latest technology and methods to ensure that your home is properly protected from the water.
Demolition projects often create a ton of construction waste and debris. GRND will ensure the jobsite is clean during and after your project.
We have our own bins, so our debris removal service can be done swiftly and efficiently.
GRND Demolition Company Project Planning
The first step in any demolition project is to contact GRND for an inspection consultation, where we visit the job site. We will review your project with you and answer any questions that you may have. Once we have a clear understanding of your goals, we will provide you with a free quote outlining our services and costs.
Once you have approved the quote, we will begin scheduling and planning the project and determine what equipment we need. We will work with you to determine the best time to begin the work and ensure that it is completed in a timely manner.
We own all our demolition equipment, including bins which we frequently take home to be emptied. We don't hire third party services and we don't have to wait to rent equipment.
Once the project is underway, our team of experts will complete the work quickly and efficiently. We will always take care of the necessary phases, whilst minimising the disruption to your life or business. We will leave the job site clean and ready for the next project phase.
Experience GRND planning and expertise for yourself
Give us a call to plan your demolition project!
The demolition process has come a long way since its early days. In the past, the process was often messy and dangerous, and it often resulted in damage to the surrounding area.
Furthermore, it was often done by hand. This meant that there was a lot of dust and debris, and it was often difficult to control the work.
Today, the demolition process is much more controlled, efficient and safe. We use a variety of tools to ensure that the work is done quickly and efficiently, and we take care to minimise the disruption to your life or business.
Some of the tools that we use include:
Jackhammers
Excavators
Bobcats
Bulldozers
Hydraulic rock-breakers
Hydraulic shears
Wrecking balls (for large projects)
These tools allow us to quickly and easily remove any unwanted structures, and they also help to minimise the amount of debris that is produced.
Methodology and Debris Management
We also use a variety of methods to control the work site. For example, we often use scaffolding to protect the surrounding area from debris, and we also use nets to catch any falling debris.
Some other methods include:
Water spraying (to reduce dust)
Ventilation (to improve air quality)
Containment (to prevent debris from spreading)
By using these tools and methods, we are able to provide a high quality service that is safe, efficient and minimises the disruption to your business or life.
In addition, we make every effort to recycle as much of the waste as possible. This helps to reduce the amount of waste that is produced, and it also helps to protect the environment. We frequently empty our own bins during our operations.
With the demolition of any structures, potential hazardous materials (like asbestos) will have to be determined. Removal of these components requires specialist service, permits and licensing.
Starting the demolition process is not as simple as just showing up and tearing down a building with an excavator or other tools.
Smaller structures that are often only a few stories high, like houses and garages or home additions can generally be demolished by removing structural integrity items and recyclable materials on the inside and then use hydraulic equipment like excavators, bulldozers and bobcats to take down the structure in a controlled manner.
Large buildings often require larger equipment as well, like wrecking balls, hydraulic shears and hydraulic rock-breakers. The wrecking ball is only very seldomly used these days, more modern methods like the hydraulic shears and rock-breakers allow for a more controlled demolition.
Contact GRND for a free quote for your demolition project
Permits, Licensing and Safety
Demolition Permits in Toronto
If you are planning to demolish a building in the City of Toronto, you will need to obtain a building permit. The permit process is designed to ensure that all demolitions are carried out safely and in accordance with the city's bylaws.
GRND can guide you on how to obtain the correct permits for the demolition process.
The safety of our workers and the public is our top priority. We take a number of steps to ensure that all of our projects are completed safely.
Some of the safety measures that we take include:
Using protective equipment
Conducting regular safety briefings
Providing training for our workers
Job site fencing
Monitoring work sites
Checking our equipment regularly and immediately replacing any faulty equipment
Of course, we are also committed to follow all of the safety regulations that are set by the City of Toronto.
If you have any questions about our safety procedures, or if you would like to learn more about our commitment to safety, please contact us today.
Our GRND contractors are fully licensed and insured. Our team is certified and trained to use all of the equipment that we use on our projects. We are committed to following all of the regulations that are set by the City of Toronto.
See What GRND can do for you today
Give us a call for a free quote
Contact us today for full-service GRND demolition solutions
GRND is a full-service demolition company. We are committed to providing high quality service and to completing each project on time and on budget.
Often, a combination of several demolition services is the best solution for our clients, this is why our clients love working together with us. Our versatility will save you time and money in completing your projects and you don't have to deal with several different companies.
If you have any questions about our services or would like to schedule an inspection consultation, contact us today! We look forward to working with you on your next project.