There are some services that you are always going to want to leave to the professionals. Sometimes it may seem like a good idea to hang pictures on the wall on your own. Other times it may seem like a good idea to try to clean your gutters without professional assistance. When it comes to demolition services though, you need a professional and experienced team. That is why you would want to hire GRND for all of your demolition needs.
The team at GRND is properly trained to work with all of the machinery, and can work on your property in a productive and effective way. No matter what type of project that you have at hand, our GRND team will be able to get the job done for you. We know how to work with different soil types and building types, and that means that we know how to get the job done right.
Do not hesitate, call us right now and see what we can do for you.
Residential Demolition
Commercial Demolition
Industrial Demolition
Concrete removal
Underpinning
Waterproofing
Frequently asked questions (FAQ) about Demolition
GRND is more than happy to answer any questions and guide you through the entire demolition process step-by-step, including permit application information.
In order to provide some information that will become relevant once we start the process, you can find some frequently asked questions below.
GRND can answer your demolition questions
Please reach out for any demolition questions you might have.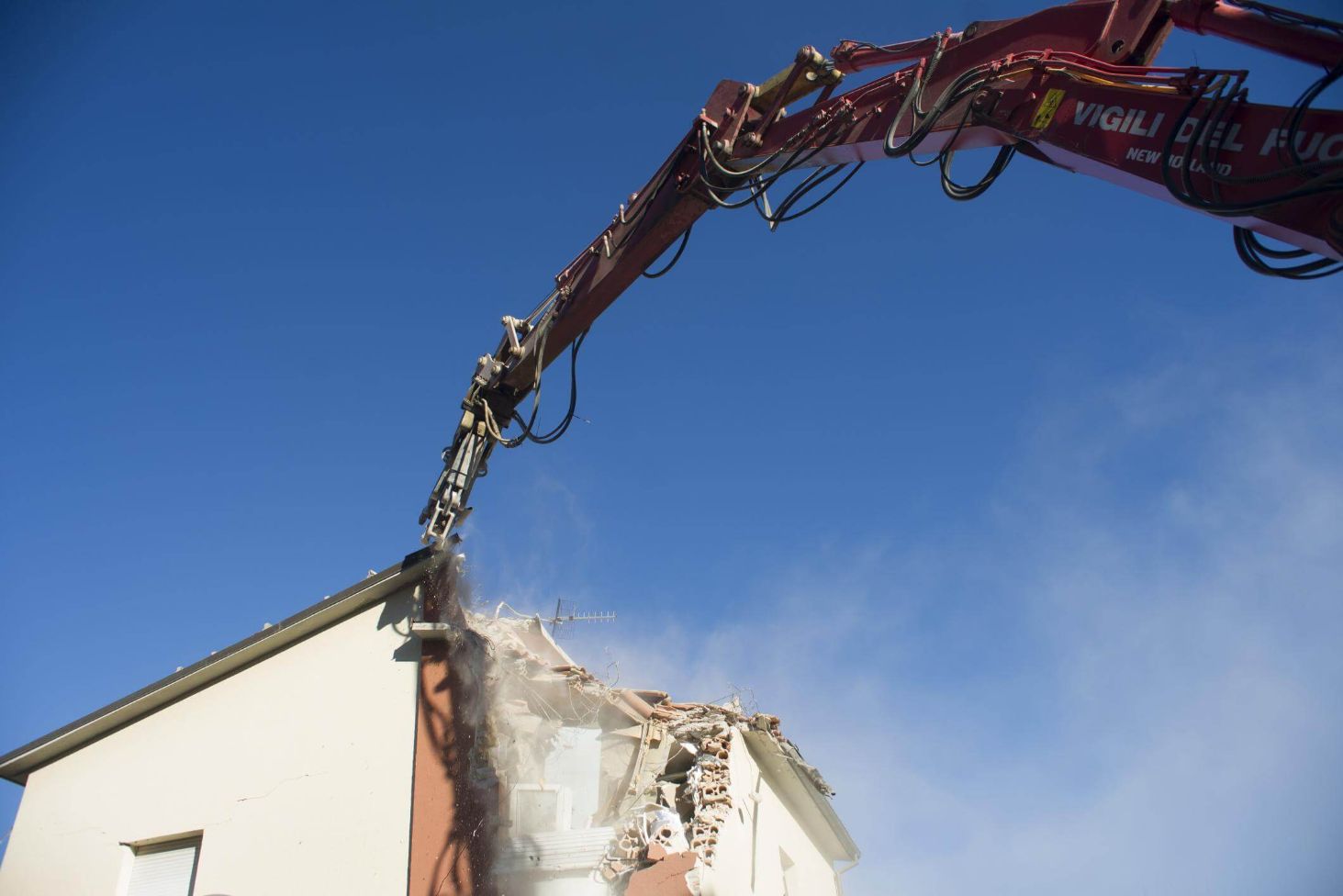 Demolition is the process of destroying a structure, such as a building, home or a bridge. It can be done manually, using tools such as sledgehammers, or with machines such as an excavator or a bulldozer.
What are the different types of demolition?
There are three main types of demolition: interior demolition, selective demolition, and complete demolition.
Interior demolition
Interior demolition is the process of tearing down only a portion of a structure. This is often done to remove unsafe or unsound areas, such as walls or floors.
Selective demolition
Selective demolition is the process of tearing down specific parts of a structure, while leaving the rest intact. This is often done to preserve valuable or historic materials, such as bricks or tiles.
Complete demolition
Complete demolition is the process of tearing down an entire structure. This is often done to prepare a site for new construction.
What is a demolition plan?
A demolition plan is a document that outlines the work to be done during a demolition project. It should include a schedule, budget, and safety plan. It may also include a list of materials to be salvaged or reused.
What kind of permits do I require for demolition in Ontario?
You may need a demolition permit from your municipality, as well as an asbestos removal permit if the building contains asbestos. You may also need to follow the Ontario Heritage Act if the building is a heritage property. Demolition does not require a planning permission. (1)
What kind of permits do I require for demolition in Toronto?
Under the building code act a demolition permit, or building permit, is required for any building or part of a building greater than 10 square metres. (2) This includes sheds, decks, garages, and pools. If the structure is a heritage property, you must adhere to the Ontario Heritage Act. You do not need a planning permission for demolition. (3)
An asbestos removal permit is required if the building contains asbestos. (4)
Building Code Act Construction or Demolition permit application process example
The first step in the process is to contact the city's Building Department to schedule an inspection of the building. The inspection is required in order to obtain a permit.
Once the inspection is complete, you will need to submit a demolition application form, along with the fee, to the city's Building Department. The form must be signed by the owner of the property and the contractor who will be carrying out the work.
Once the application is approved, you will be issued a demolition permit (building permit). The permit will be valid for one year from the date of issue.
It is important to note that the permit process is separate from the zoning and planning approval process. You may need to obtain additional approvals from the City's Planning Department before you can begin the demolition work.
1. Government of Ontario, Demolition Permits, https://www.ontario.ca/document/citizens-guide-land-use-planning/building-permits#section-7
2. City of Toronto, When Do I need a Building Permit?, https://www.toronto.ca/services-payments/building-construction/apply-for-a-building-permit/when-do-i-need-a-building-permit/
3. City of Toronto, Residential Demolition Permit, https://www.toronto.ca/services-payments/building-construction/apply-for-a-building-permit/building-permit-application-guides/renovation-and-new-house-guides/residential-demolition-permit-with-replacement-building/
4. City of Toronto, Asbestos Management, https://www.toronto.ca/city-government/accountability-operations-customer-service/city-administration/corporate-policies/people-equity-policies/asbestos-management/